CHOMTALAY RESORT
Hadchaosamran Phetchaburi
Tel. 032-478-488, 032-478-489 ,099-0977271
---
Relax at CHOMTALAY RESORT
---
Welcome to our small seaside lodging. We are situated at the first beach of the long strip of Chaosamran Beach, toward Laem Phakbia, in Phetchaburi. We are located right at the corner where waves and sand dunes meet. This small seaside lodging is a boutique bed-and-breakfast operated as a not-for-profit project. We are highly aware of ecological balance and we are also committed to promoting local heritage and culture.
We are extremely conscious about our environment, and thus made a decision not to build a swimming pool in order to retain the land level and prevent damage from underground water systems, which could have harmed not only our property but also nearby lands. We also limit our lodging to a small-scaled operation, in order to avoid any deep construction drilling into the earth. We have also spent over a decade planting trees and bushes on this land in order to retain the land terrain's original formation. We hope you understand our efforts, and that you will kindly help us retain the ecological balance of this small land.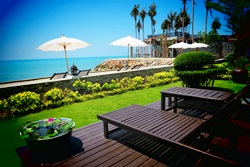 ---
Beautiful life by the Sea
---
Consider Chomtalay at Had Chaosamran your next vacation home. It is located in a perfect location for you to experience Phetchaburi's famous coastal areas, beaches, and cultural heritage sites. It is also only 10 minutes away from the famous Laem Phakbia's Environmental Research and Royal Project where you can make trips to photograph wildlife. We are renowned for our Thai-style breakfast and English tea served with great hospitality to your cabin or at your table set by the Sea upon your request. Call us today (099-097-7271) to find out how to book your next stay at this beautiful land. Hospitality is at the heart of our service.